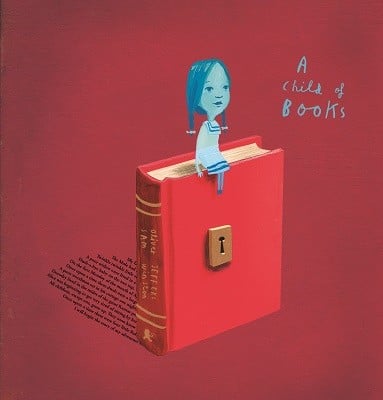  
A Child of Books (Hardback)
Author: Sam Winston
Format: Hardback
Publisher: Walker Books Ltd
Publication date: 01 Sep 2016
Fast delivery and well packaged
Return products within 30 days
Customer data is always encrypted
Product information
| | |
| --- | --- |
| ISBN | 9781406358315 |
| Author | Sam Winston |
| Publisher | Walker Books Ltd |
| Publication date | 01 Sep 2016 |
| Format | Hardback |
| Number of pages | 40 pages |
| Weight | 520g |
| Dimensions | 260 x 265 x 15mm |
A beautiful, poignant and timely manifesto for the myriad rewards of reading and sharing the enjoyment of stories.
Winner of the prestigious international Bologna Ragazzi Award for Fiction 2017
From New York Times bestselling author-illustrator Oliver Jeffers, creator of The Day the Crayons Quit and Lost and Found, and typographical artist Sam Winston comes an exceptional new picture book.
In this inspiring, lyrical tale about the rewards of reading and sharing stories, a little girl sails her raft "across a sea of words" to arrive at the house of a small boy. There she invites him to come away with her on an adventure. Guided by his new friend, the boy unlocks his imagination and a lifetime of magic lies ahead of him... But who will be next? Elegant illustrations by Oliver Jeffers are accompanied by Sam Winston's astonishing typographical landscapes, beautifully shaped from excerpts of children's classics including Treasure Island, Little Women and The Wonderful Wizard of Oz, creating a gorgeous gift book perfect for readers of all ages, and this year's must-have Christmas gift.
Review quote
Combining elegant illustrations by Oliver Jeffers and Sam Winston's astonishing typographical landscapes , this is the perfect picture book for Christmas. * Toppsta, Book of the Month * "Their approach here will surely fascinate children still getting acquainted with the written word: it suggests playful and irreverent approaches to texts and text itself." * Roundtable * "It's really quite imaginative, and I'll admit it inspires me!" * Diaryofafirstchild.com * "A beautiful, poignant and timely manifesto for the myriad rewards of reading and sharing the enjoyment of stories. [...]Elegant illustrations by Oliver Jeffers are accompanied by Sam Winston's astonishing typographical landscapes, beautifully shaped from excerpts of children's classics [...]" * Toppsta * "The visual narrative is carries by Jeffers' highly expressive figurative images and hand written text telling us the main story which is amplified and complimented by Winston's beautiful typographic landscapes." * The School Librarian * "a fantastical journey of the imagination" * Irish Times, Children's Books of the Year recommended by Michelle Cusolito * "[...] joyous celebration of classic novels and lullabies." * Big Issue London * "[...] stunning [...] a complex intertextual work of art - featuring the text of classics woven into the illustrations = that succeeds both as a picture book and as something to be pored over by older readers." * The Irish Times * [...] an ode to books, lovingly illustrated and beautifully designed. * Irish Independent * [...] one of those deceptively simple books about books that can become fey unless it is as magical and passionate as this is. * New Statesman * A wonderful celebration of storytelling, providing endless opportunities for sharing discovery and memories. * Carousel * An absolutely stunning book about words, stories and the power of imagination. This is the first time the pair have collaborated and they have created something magical. Give it to everyone this Christmas! * angels & urchins * "[...] it's certainly a cleverly conceived, ingeniously illustrated and beautifully designed and produced picture book. * Books for Keeps * A lavish and uplifting celebration of the wonders of a limitless imagination and the power of the written word. An unforgettably inspiring read for all ages. * Little London * This stunning visual poem, about the way the fantasy worlds of children's books create the fabric of the grown-up mind, is also, as Jeffers is keen to remind me, "a story about a boy and a girl who go on an adventure". Like all of his works, A Child of Books is for everyone and not just kids. * The Irish Times * [...] easily a contender for the most beautiful children's book of the year. The stunning typographical landscapes - comprised of the text of children's classic novels - make this every book-lover's dream book. A truly magical work of art. * Huffington Post UK * "Oliver Jeffers' new book is a first time collaboration with Sam Winston and it is something that everyone should have in their homes, old and young. A call to arms for the imagination, the power of stories and a reminder the magic is out there for all of us. A beautiful masterpiece." * angels & urchins * "[...] it's a totally innovative and absolutely unique exploration of the power of story and storytelling. [...] Everything about this wonderful volume is so carefully considered by this inspired pairing; for instance there's the stark contrast between Jeffers' hand-written, lyrical narrative and Winston's digitally manipulated lines from the classics. Talking of classics, this ground-breaking book is surely destined to become a modern classic. [...] I could go on waxing lyrical about this intertextual wonder but let me merely urge you to get hold of a copy of your own (and some to give). Free your mind, be enchanted and also see how many of the 42 classics you can discover for yourself between its awesome pages. It's truly a work of art and a celebration of the imagination." * Red Reading Hub * A groundbreaking, inspiring and hauntingly beautiful story from picture book giant Oliver Jeffers and typographic fine artist Sam Winston. This magical and unforgettable book is a completely unique reading experience, blending illustration and the printed and written word like never before. A child of Books will encourage readers of all ages to question, to explore and to imagine - an infinite reminder of what books are, and all that they can do. * Ni4Kids * "This incredible book will seed a life-long love of reading." * The Sun * It's a hymn of books, reading and stories, a unique reading experience and an inspirational gift for book lovers young and old. * The Bookseller * The message - and indeed the last line - is, of course, that imagination is free; that there's a little crack you can look through and see a whole universe. [...] Like all the best children's books, it can be enjoyed superficially or you can get into the nitty gritty of the texts - the reader can go as deep as he likes. * The Daily Telegraph * A gorgeous homage to the power of the written word. -- Imogen Russell Williams * The Guardian *
About Sam Winston
Oliver Jeffers is an artist whose work ranges from figurative painting and installation to illustration. His picture books include Lost and Found, How to Catch a Star, This Moose Belongs to Me and The Day the Crayons Quit, all of which have been translated into over 30 languages worldwide. Oliver's talent has been recognized by several high-profile awards, including the Irish Book of the Year and the Blue Peter Book of the Year; as well as shortlists for the British Book of the Year, the Roald Dahl Prize and the Kate Greenaway Medal. Born in Australia, Oliver was brought up in Northern Ireland and now lives and works in New York. Find him online at www.oliverjeffers.com and on Twitter as @OliverJeffers.
Sam Winston is a fine artist who exhibits internationally and whose books can be found in many special collections worldwide, including New York's Museum of Modern Art, the Getty Research Institute, the Tate Gallery London, and the V&A Museum. His work is also collected by the Library of Congress and commissioned by The New York Times. Sam lives and works in London. Find him online at www.samwinston.com.
Customer Review